Designed by a Busy Woman for Busy Women 
I have been where you are. You're driven, always-on-the-go, & inspiring. You want to thrive. I admire you!
But you're tired of feeling overwhelmed & stressed out, as if there's never enough time in a day. 
If you're there now, I want you to know that you don't have to stay there. 
Here is the good news:
There is a way to get unstuck. 
Is This You?
You're an ambitious career woman or business owner. You're incredibly good at what you do, but you've built up some poor habits when it comes to self-care and work-life balance. I know: it's tough to perform at high levels on all levels.
You're a working mother or mompreneur who is trying to juggle all her roles. You put yourself last after family & work responsibilities. You're exhausted, even teetering on burnout. You want to stop the cycle.
You're a stay-at-home mom - and the glue that holds your family together. You give everything to everyone else, but in that process, you've become short-tempered with your kids, and virtually unrecognizable to yourself. You've forgotten that when it comes to self-care and vitality, you need to secure your oxygen mask first. You're also ready to rediscover your identity and passions beyond your family. 
You're emotionally drained, stagnant or stuck. 

Simply put, you have lost your passion and zest for life. You are merely surviving, not thriving, and your life feels like a blown out candle.
If any of this sounds like you, you're in the right place!
But you're not alone. All of my clients are over-giving, passionate, strong individuals who feel held back from setting healthy habits, adjusting their mindset & living the life they deserve to live.
The next phase of your life is calling you - and you don't need to go through it alone.
BUSY TO BLISS will give you the tools, inspiration, motivation & unparalleled support on your journey to creating and living a blissful life.
Having the right self-care plan will transform your days to life-changing levels.
Schedule Your Free Call with Erica
Erica is personally opening up her calendar to you if you are on the fence or curious about the program. Erica will answer any questions and address any hesitations. 
Book Your Free 15-Minute Call with Erica
By the end of this program

,
you will have…
Created an A to Z (Anxious to Zen) Roadmap to Optimal Energy & Well-Being

A comprehensive plan based on key physical wellness pillars: yoga, meditation, diet, nutrition, movement, and sleep.

The Tools To Be Able To Wake Up Motivated & Empowered In The Morning

With time management strategies, wellness practices implemented, and a positive mindset, you will wake up purposeful and optimistic.

Created A Self-Care & Wellness Regime - With More Time In Your Schedule To Fit It All In

Set boundaries, practice purposeful letting go & cleansing strategies to make room for self-care (and room for you).

An Abundance Mindset

You will learn how to allow abundance into your life, strengthen your self-esteem and develop a daily gratitude practice.

Defined Your Version of Success & Happiness - And How To Live Life On Your Own Terms

You will realize how living others' version of happiness is a recipe for UNhappiness. You will learn to live life fearlessly and joyfully on your own terms.
A Stress Management Toolbox To Still Thrive Under Stress

Build your toolbox of strategies to function in optimal energy even while under stress. Habits and discipline will take you there.
Mind-Body Awareness To Create A Yoga & Meditation Practice AND Sleep Routine to Induce More Calm

You will learn how to combine the 4 pillars of mindful living: nutrition, exercise, sleep, and stress management.

Time Management Strategies To Beat Procrastination, Get More Done Every Day and Reclaim Your Time

You'll define your non-negotiables, set your schedule with well-being in mind and give yourself permission to unplug in ways that work for you.

Have The Transformation Toolbox to Make The Changes Last

Created your own "zen den" for calm: your community and social connections will become cheerleaders to ensure you have support during and beyond the program.
"Erica has spent years inspiring and empowering women to get off the fence, get unstuck and thrive daily."
ARIANNA HUFFINGTON, FOUNDER THE HUFFINGTON POST AND THRIVE GLOBAL
"Erica embodies many of the greatest things about women: she has accomplished so much. Women should draw inspiration from her and especially her message: be bold! There is nothing you cannot do if you put your mind and heart into it."
SARAH FERGUSON, DUCHESS OF YORK
"Erica is an always inspiring and empowering presence in this world."
- CHRISTIE TURLINGTON
Have you ever wished that you could pick the brain of a world-renowned life coach and get a proven step-by-step plan for getting unstuck, and living a life you love on your own terms?
Well, now you can.
Meet Your Instructor, Erica
You've seen her on THE TODAY Show, The Oprah Winfrey Network and Global TV. Now internationally celebrated Certified Life Coach and Certified Yoga & Meditation Teacher Erica Diamond is bringing back Busy To Bliss to women around the world to reclaim their time, energy and well-being.
Teaching women how to prioritize self-care, Erica Diamond is the Lifestyle and Parenting Correspondent on Global TV, Founder of Bliss Essential oils, Professional Speaker, Host of The Erica Diamond Podcast, Author of the bestselling new release, LIST YOUR GOALS Journal: 100 Lists to Inspire and Motivate Your Growth, and Founder & Editor-In-Chief of the Award-Winning Lifestyle Platform EricaDiamond.com® (previously WomenOnTheFence.com®).
Erica Diamond has been named to the coveted list of The Top 20 Women in Canada, FORBES Magazine's Top 100 Sites for Women and a Profit Hot 50 Canadian Company. Erica Diamond was the Spokesperson for National Entrepreneurship Day and is a Huffington Post contributor.
She is also a die hard musicaholic, self-proclaimed bad cook and every woman's best friend.
Enroll in
BUSY TO BLISS

Today
Love from BUSY TO BLISS student graduates!
Dr. Tiffany Werbin
As a full-time physician, wife and mother of two, working through a pandemic in the state of New York, I decided to gift myself and register for Busy To Bliss in January 2021.
I learned to refocus my mindset and prioritize my own self-care. I have set and stuck to my non-negotiables, my exercise routine, created my daily/monthly/to-do task-managing systems and finally put my finances in order. Most impressively, I have learned to create time-management boundaries, both in my personal and my professional life, feeling strong, renewed, empowered and surrounded by community.
Thank you Erica and my fellow BTB Warriors!
Dr. Shuaa Basalom
During difficult times of the pandemic and personal struggles, Busy To Bliss changed my life. The feelings of being isolated, struggling by myself totally changed.
After finishing Busy to Bliss, I feel more empowered, supported, and more energetic. I was finally able to commit to a yoga practice in my weekly schedule! Erica Diamond is a very professional and kind teacher!
The course is well organized, and the weekly Zoom group coaching calls were game-changing and such a blessing! I recommend Busy To Bliss to any woman who is looking for positive and long-term transformation and a supportive environment in their lives!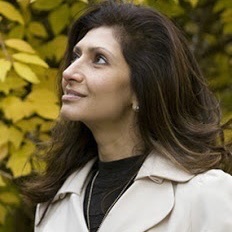 Geeta Suchak
Erica's teaching style of utilizing both left and right brain (very structured, yet creative, visual and fun) is easy for anyone to follow.
Each module is filled with golden nuggets of tips, techniques and strategies that can be implemented immediately.
Specifically I have learned how important it is to create my non-negotiables and schedule them into my agenda versus adding them onto a To-Do-List. Erica teaches how to create balance and harmony when it comes to scheduling time for work, friends and family. It's all too easy to get caught up in the going and doing. I have learned how to listen to my body and slow down to speed up.
Nina Manolson, MA, CHC
Coaching with Erica gave me clarity on what my next step was and how to make it happen. She is clear, fast, and no nonsense.
If you're ready to take your life and business to the next level, Erica will guide you there.
She sees the big picture and all the little pieces it takes to make that picture come alive.
Working with Erica is one of the greatest gifts I gave myself! She is both supportive and strategic at the same time.
Judy Edelman
I completed the Busy to Bliss course with Erica Diamond, who is an exceptional coach and teacher, as well as being a truly inspiring person!
This course taught me how to make time for myself daily. It has helped me manage my stress and anxiety daily. I have implemented daily morning and evening meditation, and now have systems in place to supporting sustain my wellness and my life. This has been very helpful in my daily life as an entrepreneur.
I would highly recommend Erica as a life coach & course teacher in Busy To Bliss! Erica is absolutely an enlightening soul! It was a wonderful transformational experience!
Sheryl Goldstein
An opportunity to spend time with Erica Diamond is a gift... she has an aura of kindness, empathy, compassion, but yet savvy, thriving and optimistic about reinventing your days and life patterns.
Erica's latest addition to her amazing library of self awareness Busy To Bliss was so informative and life-changing.
Gift yourself with this gift , you will be happy you did!
Why? Because Erica has the ability to promote positive change and "steps forward" with her approach and care of her clients. Erica thinks of her client's needs long after their session is completed and thinks "outside the box" to help her client's goals become a reality.
"I am forever grateful for first choosing Erica as my coach, and then enrolling in her course, Busy To Bliss. As a working mother who wants to change the world, Erica motivated me to invest more time in myself and gave me the tools and strategies to wake up energized and motivated in my days. More than anything, Erica and Busy To Bliss helped me overcome my limiting beliefs that were holding me back from truly living my passion for so long.
Since graduating Busy To Bliss, I now have a daily self-care regime in place that allows me to carry on all my jobs as a mother, wife and career woman with ease and impact more women. I now start my days feeling fully alive and awake, and ready to give my family and my clients the undivided attention they need and deserve. If you're on the fence about joining the program, it's an absolute no-brainer!"
AMANDA SPIRO
What's Inside
Busy To Bliss
Module 1
Mindset
Our thoughts create our reality. We think positive thoughts – and our world becomes sunny. We inhale negativity – and the world we live in becomes dark.
You'll learn through repetitive habits and practices how to train your brain and change your mindset.
You will come as you are, and I will meet you there. No judgement. I will show you how to define your own version of success, and live it freely and joyfully on your own terms.
Module Highlights:
How to rewire your brain for more joy and happiness.
How to overcome self-limiting beliefs by using thought-challenging and reframing.
Learn how to get unstuck and you'll be a pro at going outside your comfort zone.
Set boundaries and make decisions that are right for you.
How to change your mindset from a scarcity mindset, to one of abundance.
Module 2
Energy & Well-being
If your body could talk to you, what would it say?
If you're tired of feeling tired and are ready to completely transform your health, well-being, and energy for the better, this might be your favorite module.
Here you'll receive the roadmap to health, wellness and vitality. In this module, your body will start being treated like the temple it is.
Module Highlights:
Learn what acute and chronic stress does to your body, and how to recognize the silent warning signs. Then, how to come up with a stress action plan to feel more calm.
How to create your very own daily personalized self-care regime and have it mapped out in your calendar so that you actually get it done!
Learn about the importance of play to reclaim your energy and become more playful in your everyday life to make room for more joy.
How to integrate yoga and meditation tools and be more present in each moment.
How to design your bedtime routine and learn sleep strategies to implement into your life so that you wake up feeling refreshed each morning and well rested throughout your day.
Learn how to establish a weekly exercise regime & what foods to eat specifically to improve your mood and feel energized every day.
Module 3
Time Management
Do you feel like you never have the time to do what you set out to do in a day? Do you wish you could add more time back into your day? In module 3, you're going to time-manage like a boss!
Module Highlights:
Learn how to define, protect and schedule your non-negotiables so you're doing the important stuff, cutting out the rest, and feeling great about it all!

Learn why unitasking is the secret to getting more done.
Understand WHY we procrastinate - so we can transform it forever.
How to embrace THE HOUR OF POWER in the morning to be able to get more done in a day!
How to set intentions, wake up with purpose and direction without getting sidetracked by the little things. Reclaim your day!
How to unplug to recharge. How to manage all the noise: email, social media, how to put it all in its place so you can still be efficient, yet FREE AND CALM.
Module 4
Transformation
Your transformation toolbox is revealed to make all the changes last and stick! In this module, we learn to live our WHY, and execute our wellness plan for the future.
Module Highlights:
Turn your habits into a consistent practice - one that you'll actually maintain moving forward. The changes will be real - and you'll see them start to pay off.

A supportive community to hold you accountable to your transformation. You'll build friends for life!
Learn a step-by-step system to set up your very own calm space: your zen den!
Learn about homeostasis, balance and how can we stay in a state of calm despite what might be happening around us.
How to reflect and revitalize yourself using the wellness roadmap to vitality, energy, time management, and transformation which you've built.
When you enroll, you'll get:
BUSY TO BLISS
(A Value of $2497)
Comprehensive Program across 4 in-depth modules & 25 lessons

Showing you literally everything you need to turn your busy and overwhelmed life into balanced bliss.

The Complete Well-Being Formula

A toolbox to create a complete daily wellness routine: mind, body and spirit. Combat stress & receive the entire wellness roadmap to calm.

Access to the Exclusive BUSY TO BLISS community

Join a private community of smart, strong and inspiring women. Share, exchange and grow - together.

Bi-Monthly LIVE Group Q&A Coaching sessions with Erica

 

and

 a team of experts

One LIVE hour of group Q&A coaching 

every two weeks

 for a total of 4 sessions throughout 8 weeks to support you and answer your questions on your transformation journey. That's 4 live hours with Erica and her team of experts! If you cannot make the lives, a replay will be sent.

Lifetime access to the course

This course is designed as a self-paced course as well, so there is no pressure to complete it in the recommended 8-weeks. Now, how great is that?

Some

complete

 it quicker in 4 or 5 weeks, some take 8 weeks or longer.

If you need a refresher in the future, start back from Week 1 at any time! Lifetime access makes this the most affordable life coaching program ever!
Plus These Bonuses to Help You Reclaim Your Time and Energy
Bonus 1
LIVE 60-Minute Yoga and Meditation Masterclass with Erica Diamond to Channel Your Inner Zen and Boost Your Energy
As a live bonus experiential event to keep well-being momentum going. You'll channel your inner zen and boost your energy with Erica's LIVE Wellness Masterclass.
Bonus 2
3-Month PREMIUM Subscription to BREETHE Meditation App
Bring your mind and body to a state of calm any time you need it with a FREE 3-month premium subscription to Breethe.
Bonus 3
Mandy's Gourmet Salads: Recipes for Lettuce and Life (Cookbook)
Plan healthy eating in your everyday lifestyle with this magnificent cookbook from two busy and blissful entrepreneur sisters.
"Meeting you has absolutely changed my whole thinking – it's unbelievable! I spent so much time, money and energy on therapy throughout my life and it did not have the impact that you had on me right from our first session. It felt as if you had known me for years. I am now clear on my action plan and steps, and it starts today.
I cannot express how grateful I am to have met you and had you as my coach."
-Sarah Packer
Here's what you're getting when you enroll today:
BUSY TO BLISS  - $2497 Value
Busy To Bliss Core Program including 25 Video Lessons, PDF Guides and Homework & Reflections
Live Bi-Monthly Coaching Sessions & Q&A with Erica Diamond

and leading experts

 (Wednesdays) inside a Private Members Only Zoom Call. 
60-Minute Live Wellness Masterclass with Erica Diamond 
3-Month Premium Subscription to BREETHE Meditation App
Mandy's Gourmet Salads Cookbook: Recipes for Lettuce and Life
Total Value: $2497
But when you enroll today, you'll get access to everything for just:
Sleep Easy With Our 21-Day Guarantee
Busy To Bliss is a comprehensive transformation program for busy women who are excited and COMMITTED about creating and living a life of calm, abundance, energy & well-being.
By day 21, you'll have received access to almost two modules. You'll have had the opportunity to get your mind, body and time on track.
If you've put in the all the work required by the course (and can show us that you've done all the work) & still feel out of sync after 21 days of Module 1 going live, simply reach out to us. You will receive direct support from Erica and she will spend personalized time with you to make sure you're on track to achieve your goals.
Want to elevate your well-being practice to the next level?
Join the Premium VIP Experience
The Premium VIP Experience includes:
Busy To Bliss Online Program 
ALL the bonuses 
TWO 1-hour private, custom-to-you coaching sessions
The Premium VIP Experience means we will deep-dive into what's working and course-correct what isn't. You'll have 12 months to use your 2 coaching sessions: we will customize your wellness regime to ensure you have all the tools you will need to achieve your goals and live the life you want to live.
Here, the strategy is custom-tailored for you, my friend! Two more hours of one-on-one time with Erica Diamond to build your action plan. Game changing.
Available at cart checkout
"Erica Diamond and her Busy To Bliss course is like being with your bestie who gives you the magic wand to go from empty to empowered.
The course Erica created is for real women with real life schedules and struggles. Engaging with other like-minded and like-hearted women, creating a community of support.
Busy To Bliss is an experience like no other. Loved, loved, loved it and I am going through the program again!."
LISA BETH TONEY
Burning questions you might be wondering before grabbing your
BUSY TO BLISS

access
I'm feeling a bit overwhelmed by all the things I'm going to need to learn and execute inside this program. Are you sure I can do it?
I'm not a yoga or meditation person. Is it too advanced for me? Will I enjoy this course?
I don't have time to take an online coaching course. How will I find the time?
How much time will I need to dedicate to the course?
There are a million wellness and time management courses. What makes this one different?
I'd love to invest in myself right now, but I don't have the money.
When I join From Busy To Bliss, will I be getting immediate access to all the lessons and modules?
Will Erica be available and accessible to answer questions if I get stuck?
Nothing Changes If Nothing Changes
OPTION 1
You can try and create a wellness roadmap to more time, energy, vitality and happiness on your own without a plan, but you'll run the BIG risk of being in the same place next year, still feeling burned out, still feeling overwhelmed, still not getting the things done that you want to do, and with no strategy or plan to feeling energized and abundant in your day-to-day.
Or OPTION 2
You can 100% commit to creating and living a life of success, optimal well-being, productivity, balance and energy in your day using a proven roadmap.
A proven roadmap, PLUS the in-depth experience, the individualized strategies, live group coaching, and most importantly the accountability and community support.
If you are ready to finally show up for yourself, then I'd love to see you inside Busy To Bliss.
Enroll in
Busy To Bliss

today
Elevate your well-being practice to the next level.
Join the Premium VIP Experience
The Premium VIP Experience includes:
Busy To Bliss Online Program 
ALL the bonuses 
TWO 1-hour private, custom-to-you coaching sessions
The Premium VIP Experience means we will deep-dive into what's working and course-correct what isn't. You'll have 12 months to use your 2 coaching sessions: we will customize your wellness regime to ensure you have all the tools you will need to achieve your goals and live the life you want to live.
Here, the strategy is custom-tailored for you, my friend! Two more hours of one-on-one time with Erica Diamond to build your action plan. Game changing.
Available at cart checkout
"I had never practiced yoga before working with Erica. I definitely wasn't a yoga person. I now practice almost daily because of Erica and have changed try life. What would make me anxious or melt down or set me off before, I welcome with a calm and rational approach. Erica makes yoga and meditation accessible for everyone."
JENNIFER LOWES
I cannot wait to guide you in your transformation.
Living a life of mind and body wellness has literally transformed my life.
I've experienced first-hand what it feels like to teeter on burnout with no plan or strategy to balance your life. 20 years ago, I made a change: I completely transformed my trajectory to living life in harmony and flow.
More than anything else, I want to teach you that recipe. I want to share with you what I have done for myself, and thousands of women around the world for the past 18 years.
If you're a busy woman out there juggling all of her roles and feeling overwhelmed or uninspired, you owe it to yourself to see what your life as a thriving woman looks like.
I guarantee that our time together will be deeply impactful for you and for your family.
I look forward to meeting you personally inside Busy To Bliss.
ALL my best,
- Erica